Workouts
Every week, people put aside whatever else is happening in their lives and lose themselves in one of the LES MILLS™ group fitness and team training programs. They shout, they sweat, they leave feeling extraordinary and then they come back to do it all again.
Questions! Please contact us!
RPM™
RPM™ is our indoor cycling class, set to the rhythm of motivating music. Burn up to 620 calories* a workout and get fit fast.
Learn all the basic cycling moves like standing up, sitting down, changing hand positions, speeding up and slowing down.
You control your own resistance levels and sprint speed so you can build up your training level over time.
If you want a true sense of achievement, get into a RPM™ class today.
Connect with RPM™ on Facebook.
BODYPUMP™
BODYPUMP™ is for anyone looking to get lean, toned and fit – fast.
Using light to moderate weights with lots of repetition, BODYPUMP™ gives you a total body workout. It will burn up to 590 calories*. Instructors will coach you through the scientifically proven moves and techniques pumping out encouragement, motivation and great music – helping you achieve much more than on your own!
You'll leave the class feeling challenged and motivated, ready to come back for more.
Connect with BODYPUMP™ on Facebook.
BODYSTEP™
Basic stepping, just like walking up and down stairs, is at the heart of BODYSTEP™ – a full-body cardio workout to really tone your butt and thighs. In a BODYSTEP™ Athletic class you combine basic stepping with moves like burpees, push ups and weight plate exercises to work the upper body. If you fancy quicker stepping and the chance to showcase your rhythm and flair then BODYSTEP™ Classic is the way to go. There are always lots of options to get you through the workout safely. Our bubbly and approachable instructors coach you through the 55-minute workout. We play invigorating, hit music and inject a whole lot of fun and personality along the way. You can burn up to 620 calories* and you'll leave buzzing with satisfaction.
Connect with BODYSTEP™ on Facebook.
BODYCOMBAT™
BODYCOMBAT™ is a high-energy martial arts-inspired workout that is totally non-contact.
Punch and kick your way to fitness and burn up to 740 calories in a class.
No experience needed.
Learn moves from Karate, Taekwondo, Boxing, Muay Thai, Capoeira and Kung Fu. Release stress, have a blast and feel like a champ. Bring your best fighter attitude and leave inhibitions at the door.
Connect with BODYCOMBAT™ on Facebook.
CXWORX™
Exercising muscles around the core, CXWORX™ provides the vital ingredient for a stronger body. A stronger core makes you better at all things you do, from everyday life to your favorite sports – it's the glue that holds everything together.
All the moves in CXWORX™ have options, so it's challenging but achievable for your own level of fitness. Trained instructors guide you through correct technique as you work with resistance tubes and weight plates, as well as body weight exercises like crunches, and hovers. You will also get into some hip, butt and lower back exercises.
Connect with CXWORX™ on Facebook.
GROUP KICK™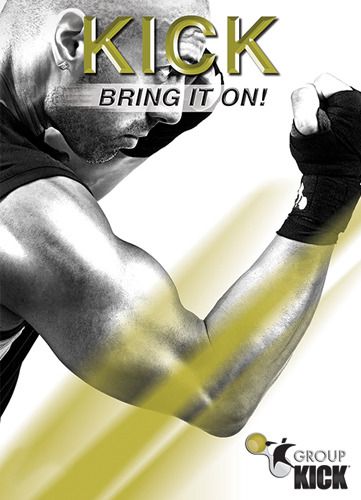 The gripping hour burns a ton of calories and builds total body strength. Tap into the hottest mixed martial arts movements done at a rapid fire pace to smash your cardio fitness. From the boxing ring to the fighting cages, GROUP KICK™  combines cutting-edge moves with thrilling music. This electric experience s addictive bring it on with GROUP KICK™. 
GROUP RIDE™

Get your ride on with GROUP RIDE™! The huge calorie burner builds great- looking legs! GROUP RIDE™ is a 60 minute cycling experience brought indoors. Roll over hills, chase the pack, spin the flats, climb mountains and sprint to the finish! Feel the thrill of energetic music and group dynamics as you get all the benefits of authentic interval training.
GROUP POWER™
  GROUP POWER™ is your house of power! Blast all your muscles with this high-rep weight training workout. Using an adjustable barbell, weight plates and body weight; GROUP POWER™ combines squats, lunges, presses and curls with functional integrated exercise. Dynamic music and a motivating group atmosphere will get your heart rate up, make you sweat and push you to your personal best.
Hatha / Vinyasa Yoga with Amy 

Do you need to relax with some Yoga? The class incorporates techniques and methods from a variety of yoga systems and teachers. Movements and poses are synchronized with breathing and are centered around performing a series of poses called Sun Salutations.  You will get a workout in this class, but you will also find yourself feeling centered and more relaxed. You will leave this class feeling great !
Zumba
Low-intensity and high-intensity moves for an interval-style, calorie-burning dance fitness party. Once the Latin and World rhythms take over, you'll see why Zumba Fitness classes are often called exercise in disguise.
Connect with ZUMBA on Facebook.
GUTTS AND BUTTS 
This class targets the abdomen and the butt. We spend about 30 minutes working your butt and about 30 minutes working the abdomen. This class will shape and mold these troublesome areas. We do squats and lunges with weights for the bottom and crunches and planks for the abdomen. You will see your body change in all the right areas.
Connect with GUTTS & BUTS on Facebook.
BOXING


Using interval and circuit training a boxing workout has long been one of he best ways to lose weight, tone up, gain strength physically and mentally, and keep the mind sharp.